The Journal of Oilseed Brassica published by Society for Rapeseed-Mustard Research (SRMR) is a multidisciplinary an international journal that publishes scientific articles concerned with all aspects of Brassicas in general and rapeseed mustard in particular. The journal is peer reviewed and committed to timely publication of original research and reviewed articles. The journal is designed mainly to serve researchers, dealing with brassica research. Papers that can provide both basic theoretical and experiments, are particularly welcome. The journal is published 2 times per year with distribution to librarians, universities, research centers, researchers in Biology and Agriculture science. The journal maintains strict refereeing procedures through its editorial policies in order to publish papers of only the highest quality. The journal has been published since 2008 and All papers, solicited and unsolicited, first assessed by the Editors. Papers found suitable in terms of the overall requirements of the journal send to referees for detailed evaluation.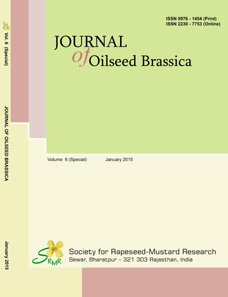 NAAS Rating 4.77 (w.e.f. January 2021)
ISSN: 0976 - 1454 (Print), 2230 - 7753 (Online)
Announcements
No announcements have been published.
Volume 14, Issue 2, July 2023
Table of Contents
Articles
| | | |
| --- | --- | --- |
| | Narendra Kumar Bhinda, Yogeshwar Singh Anoop Kumar Dixit and Dhiraj Kumar | 99-104 |
| | | |
| --- | --- | --- |
| | Divya Prakash, B Sinha and Kartikeya Srivastava | 105-110 |
| | | |
| --- | --- | --- |
| | Arvind Patel, Shivangi Saha , Rohit Kumar Verma, Divya Prakash, Aditi Eliza Tirkey and Kartikeya Srivastava | 120-128 |
| | | |
| --- | --- | --- |
| | Simran Kotwal and SN Malode | 129-134 |
| | | |
| --- | --- | --- |
| | Disha Kamboj , Neelam R Yadav am C Yadav * and Ram Avtar | 135-141 |
| | | |
| --- | --- | --- |
| | Ajay Pal Yadav, Bhagirath Ram Hariom Kumar Sharma , Bhupendra Singh Yadav , Mahipal Yadav | 142-147 |
| | | |
| --- | --- | --- |
| | HV Singh, AK Sharma , Arun Kumar, Vinod Kumar, Pankaj Sharma, MJ Nath, M Danish and PK Rai | 148-153 |
| | | |
| --- | --- | --- |
| | Babloo Sharma, Sunil Kumar Sharma, Reena Kumari , Chandra Prakash Meena , Bhupender Singh and Pooja Sharma | 154-158 |
| | | |
| --- | --- | --- |
| | Ipsita Samal, Naveen Singh Tanmaya K. Bhoi and Mukesh K Dhillon | 159-169 |
| | | |
| --- | --- | --- |
| | Bharat Chaudhary, G Roopa Lavanya Ajay Pal Yadav , Deepak Kumar Prajapat | 170-174 |
| | | |
| --- | --- | --- |
| | Sonali Meena, S Godika , RP Ghasolia SK Bairwa , Nisha Nitharwal and Sushila Choudhary | 175-180 |
| | | |
| --- | --- | --- |
| | Akshay Kumar Singh Pratihar MM Sundria, Rahul Bhardwaj and Shalini Pandey | 181-185 |